The dynamic control of stem cell populations in response to external stimuli is critical to organismal adaptation to environmental conditions. This complexity is poorly understood. bacteriaWe have shown that stem cell maintenance in Hydra depends on transcription factor FoxO – which may account for the potential immortality of the animals (Boehm et al., 2012, 2013).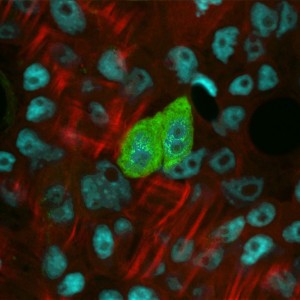 Stem cells in Hydra represent one of the most ancient stem cell systems in the animal kingdom and, therefore, provide informations for reconstructing the early history of stem cell control mechanisms. A major puzzle in developmental biology is why stem cells in most species have a limited proliferating potential while in Hydra they appear to proliferate continuously. Attempting to identify the underlying cellular and molecular mechanisms, that account for such species differences and that in particular are responsible for Hydra´s ability to continuously proliferate, is the basis of the research in the Bosch lab.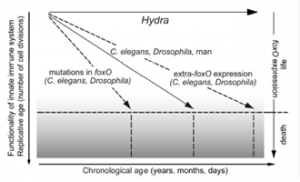 A hallmark of aging is stem cell senescence, the decline of functionality and number of somatic stem cells, resulting in an impaired regenerative capacity and reduced tissue function. In addition, aging is characterized by profound remodelling of the immune system and a quantitative decline of adequate immune responses, a phenomenon referred to as immune-senescence. Age_Hydra_GrafikYet, what is causing stem cell and immune-senescence? The Bosch lab has shown that Hydra transcription factor FoxO modulates both stem cell proliferation and innate immunity, lending strong support to a role of FoxO as critical rate-of-aging regulator from Hydra to human. Constructing a model of how FoxO responds to diverse environmental factors provides a framework for how stem cell factors might contribute to aging.
---
See also the talk by Thomas Bosch at the Molecular Frontiers Symposium at Chalmers University of Technology in Gothenburg, Sweden: Ageing from an immortal point of view: Lessons from non-senescent Hydra